It's been four long years since Pioneer DJ updated their flagship CDJ. The range has dominated the professional DJ market for over a decade, found in almost every DJ booth around the world. That said, the market place has changed since the CDJ 2000 Nexus 2 was released.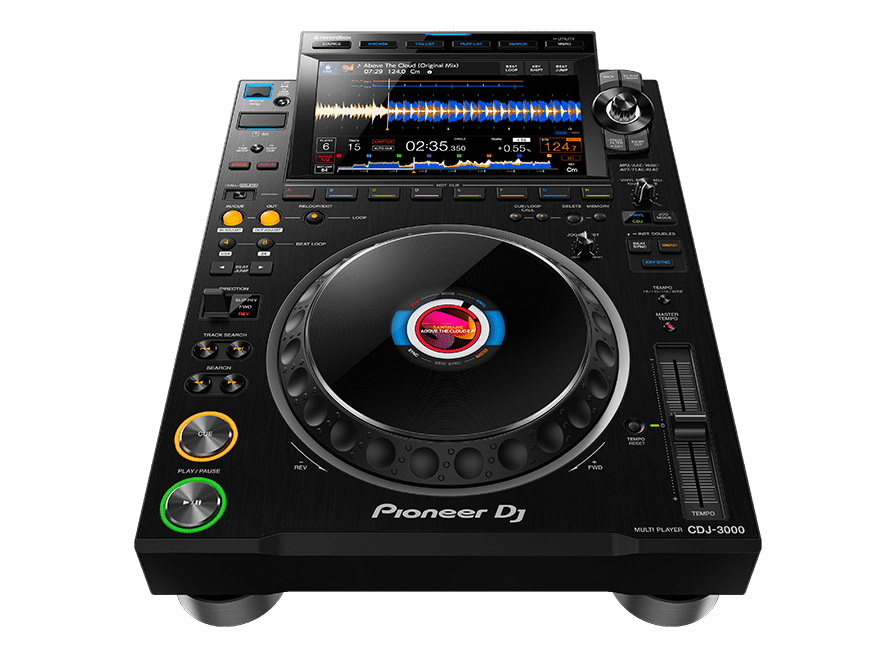 The DJ's from around the world have eagerly awaited Pioneers response to its rivals, in particular Denon DJ's SC5000 & SC6000 models. With these two rival players on the market and an eager industry awaiting what Pioneer DJ drop, have they done enough with the new CDJ-3000 to make it worth the wait?
The MPU (micro-processing unit) is the first ever put in a Pioneer CDJ.
WHAT'S NEW ON THE PIONEER CDJ-3000?
ALL NEW MULTI-PROCESSOR UNIT
Pioneer DJ claim the new processor at the heart of the CDJ 3000 is the most powerful of any player currently on the market. This enables many of the 3000's new features and advanced audio processing. The processor also means Pioneer DJ can also bring new features to the device via updates.
BETTER SOUND QUALITY
Pioneer DJ has carefully tested each part of their audio circuitry and redesigned its components to achieve the best sound possible. With a new DAC (digital-to-analogue converter) onboard, the new CDJ-3000 processes audio at 96 kHz/32-bit floating across every file format. This basically upscales the sound quality of any audio file you play on this player to provide the best listening experience!
The new processor at the heart of the Pioneer CDJ-3000 also enables advanced audio processing. Features such as the all-new key sync and key shift heavily rely upon the powerful onboard technology.
Simply put, this is the best sounding deck Pioneer DJ has ever produced! And it is capable of manipulating audio in more creative ways than ever before.
NEW PERFORMANCE FEATURES
8 Hot Cues
Dedicated Beat Jump Buttons
Polyrhythmic Looping
Dedicated 8 Beat Loop Button
Key Sync
Key Shift
The new CDJ-3000 is built around performance and as such feature new hardware controls for popular performance features. Most notably, the eight new hot cue buttons are now placed horizontally below the display.
Dedicated beat jump buttons now allow the DJ to skip through the track perfectly in time with the ability to jump between 1/2, 1, 2, 4, 8, 16, 32, or 64 beats. The CDJ-3000 now includes an 8-Beat Loop button. Odd value loops can also be activated via the display to create polyrhythmic patterns.
Redesigned hardware controls
Playlist and Search buttons – placed above the screen to quickly access your go-to playlists and easily browse your library
More hot cues – a total of 8 hot cue buttons now live under the screen for ease of access
Beat Jump buttons – jump forward or backward in your track in beat periods of 1/2, 1, 2, 4, 8, 16, 32, and 64
Advanced Auto Beat Loop button – an upgrade from the NXS2's 4-Beat Loop control, the 8-Beat Loop button doubles your looping capabilities
rekordbox and iPhone compatibility
No matter how you like to DJ, there's probably an option here for you. You can plug your laptop in and play your rekordbox library directly, play off a USB or an SD card, or – as long as you're using the most updated version of rekordbox – even plug your iPhone into the Pioneer CDJ-3000 with a USB cable and mix tracks directly from the phone.
Six player link
This appears to just be the case with CDJ-3000 units (no backwards compatibility), but you can connect 6 total players together via Pro Link. Makes sense considering the DJM-V10's channel count.

The CDJ-3000 also serves as a rekordbox Hardware Unlock device, so you can use their software on Performance mode (even if you have the free subscription of rekordbox 6.0).
CONNECTIVITY
The new Gigabit Ethernet connection inside the Pioneer CDJ-3000 enables higher data transfer speeds between Pro-Link devices. The new port enables playback and sharing of audio files from USB devices and SD cards on up to six CDJ-3000 units with rapid performance. Thanks to this and the new MPU inside the players tracks with all 8 hot cues set and multiple memory points now instantly load upon selection. No more waiting around for each hot cue to load!
There is now a lockable power cable to stop any unwanted disconnections, plus a digital output and RCA output on the back alongside a USB 3 for connecting to a laptop.
REKORDBOX DJ
The Pioneer CDJ-3000 can be connected to Rekordbox DJ on your laptop via the USB 3 port on the back of the player. Being a 'hardware unlock' device, you won't need a subscription to access the software.
SERATO DJ PRO
You will be able to connect Serato DJ Pro via HID mode in the future, however, this is not supported upon release.
REKORDBOX IOS APP
The Rekordbox iOS app on mobile can be directly connected to the CDJ-3000's. This allows DJs to play music directly form their mobile.
PRO DJ LINK
Pro DJ Link still works with Rekordbox in export mode, for any users currently using a LAN setup.