Where is Audio Shop Dubai located?
Audio Shop Dubai can be found online via www.audioshopdubai.com as well as our physical store is located at Fish Roundabout Deira Dubai. We encourage our customers to check the details of Audio Equipment in our webstore.
How Long Will it Take to get my Delivery?
We offer 24 Hour delivery service for Audio equipment all over UAE. In most cases we deliver within the same day of purchase. Our delivery will not take more than 24 hours.
How Do I Track My Order?
You can track the order via our website as well as by clicking on below whats app icon. We ensure to provide the speedy delivery so that your order gets delivered on time.
Can i collect my order from Audio Shop Dubai?
Yes, You can collect your order from our store but you need to mention that you will collect from our store. The option is available at the checkout page.
Our customer also asked for
What is Audio Interface?
Audio Interface is the bridge between the audio / musical instruments such as Microphone, Guitar, Keyboards and Computer.
Basically the Audio Interface enables you to record vocal and other instruments using the recording software in the computer.
What is Phantom Power?
Phantom Power is a term given to the process of delivering DC (Direct Current) to the microphones which requires electric power to drive active circuitry. Condenser microphones are having active circuitry and require additional power to be operated. Phantom Power is 48 Volt.
How many channels do I need for mixer?
It really depends on what you want to power or how many speakers you need to power. Amplifiers are categorized by the number of 'channels', or speakers, they can power. A one-channel, or mono amplifier, can power a single speaker. (Standardly used to power a subwoofer). Two-channel amplifiers can power two speakers, and you can guess how many speakers a four-channel amplifier can power. (It's four!) There are also five-channel amplifiers that can power your entire system (2 front speakers, 2 rear speakers, and a sub).
How do I shop for an Amplifier?
Make sure to match the power output of the amplifier to the power handling of your speakers. If your front and rear speakers have slightly different power handling ratings, use the lower rating and find an amplifier that comes close to that.
How can I make my car speakers louder without amp?
Yes, you can make the speakers louder without using amp by adding the subwoofer, adjusting car stereo settings, adding tweeters, and by using high quality car speakers. For louder and deep bass equalizer settings should be adjusted.
How Do I Place an Order of Audio Equipment?
You can simply visit Audio Shop Dubai and select your desired audio equipment and submit the purchase request online. If you couldn't find the item which you are looking for, you may message us by clicking on what's app icon available in our page.
What do mixers do in audio?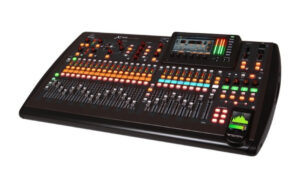 An audio mixer is a device with the primary function to accept, combine, process and monitor audio. Mixers are primarily used in four types of environments: live (at a concert), in a recording studio, for broadcast audio, and for film/television. An audio mixer can come in either analog or digital form.
Which mixer is best for karaoke?
Best mixer for karaoke are:
Alesis Multimix 4 USB FX
Behringer XENYX502 5-Channel Mixer
Mackie Mix Series Mix8 8-Channel Mixer
Yamaha MG06X 6-Input Compact Stereo Mix with Effects
Behringer Europower PMP 1680S Power Mixer
Can i get Audio Equipment on Rent?
We offer sales of Audio Equipment via our webstore as well as our physical store located in Deira. We recommend Dubai Sound System Rental if you are looking for the best audio rental solution in Dubai, UAE.