An Audio Interface also known as sound card is an internal extension card that provides input and output of audio signals to and from a computer under control of computer programs. In another word, Audio Interface is a bridge between your Audio & Musical instrument and Computer. It helps to input the audio signals to the computer as well as the output the audio signals from computer. The Audio Interface also provides the Phantom power for the condenser Microphones.
As the audio technology evolved, computer-based digital audio workstation (DAW) software has made the recording and music production far easier than the old days because the Audio Interface. The more you understand the functionality of the sound card the better-informed decision you can make while buying it.
First of all, you should determine how many inputs and outputs you require for your project, recording studio or home recording studio. Please note that the input means the port where you connect the audio and musical instruments such as microphone, Keyboard, Piano, Guitar and output means the port where you want to connect the audio equipment such as Audio Reference Monitor, Headphone, Speakers etc. and of course all the audio interface will have the port to connect it to the Laptop or computer.
Audio Shop Dubai is always dedicated in providing all our customers with the right audio equipment and musical instrument at all times. Our Motto is not just to sell the products to our customers but to help them in solving their problems. This way we ensure all our customer gets the right Audio Products.
Below are some of the mostly purchased Audio Interface by our valued customers. We have prepared this report based on our sales data. You can go through it and see which fits your requirement and please feel free to click on what's app icon below if you can't find what you need or can't decide which works best for you. Our team is always there to help you.
Focusrite Scarlett 2i2 Audio Interface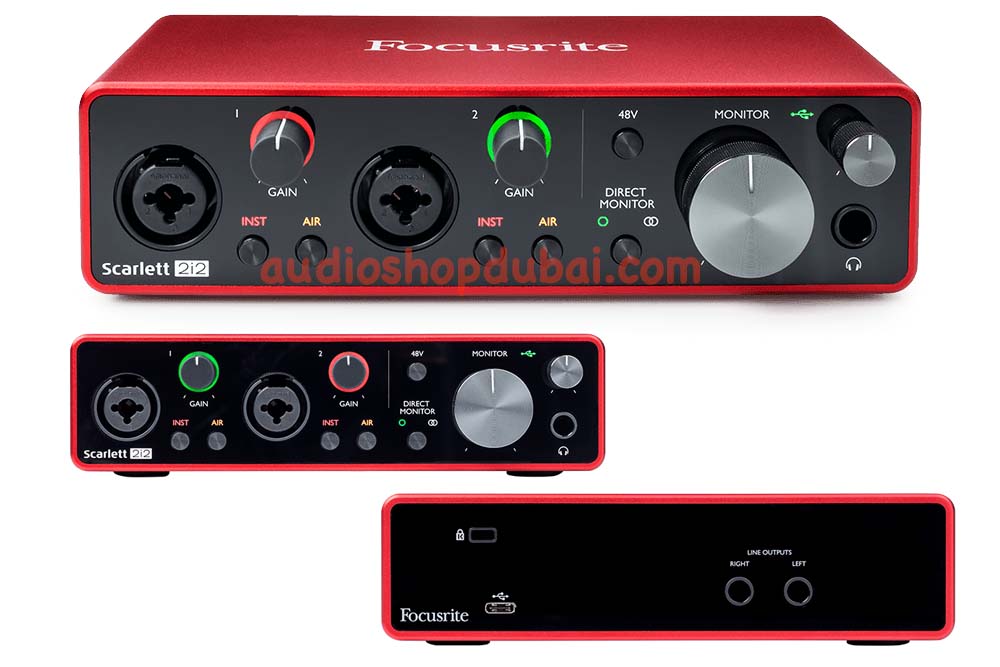 Scarlett 2i2 is officially supported in use with USB-C iPad Pros. Setup and operation is simple: just plug in, fire up your favorite music-making app, and enjoy the Focusrite sound wherever you go. Scarlett 2i2 has been tested extensively with Garageband, Cubasis 2, Auria Pro, Ampify Launchpad, Ampify Groovebox and Ampify Blocs Wave, as well as FL Studio. Now you can record anywhere.
Steinberg UR24C 2 X 4 USB 3.0 Audio Interface
The UR24C is a remarkably flexible audio interface, which combines amazing sound quality, compact size and unique switchable monitoring modes, making it perfect for recording music with a DAW or performing a great DJ or live music set. Use it with a computer or an iOS device and give your creativity unprecedented freedom.
M-Audio AIR 192 | 6 2 In 2 Out USB Audio MIDI IO w/2 Mic Ins Audio Interface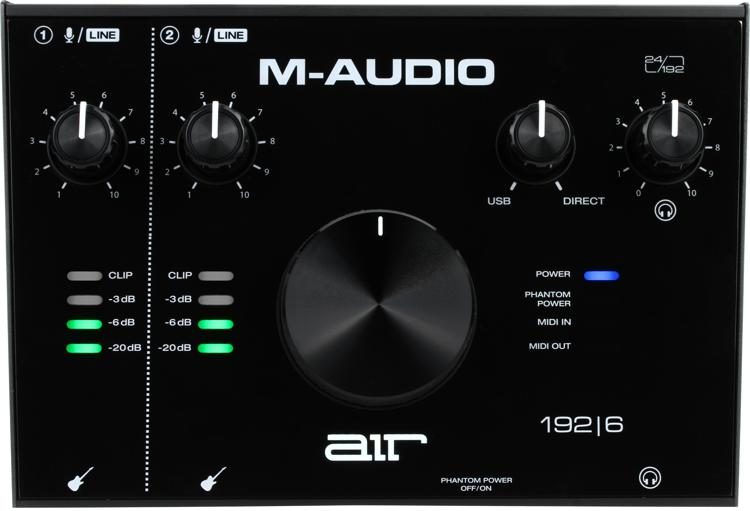 M-Audio's desktop-format AIR192|6 interface injects two channels of flawless 24-bit/192kHz audio into your session, courtesy of its ultra-pristine A/D converters and capable I/O. You've got two low-noise Crystal preamps/TRS inputs with +62dB of gain for driving studio condenser mics to stage dynamics, along with two hi-Z inputs for direct-routing keys and guitars into your song or score. You also get full-sized, 5-pin DIN MIDI in and out to interface controllers and drum pads with your ITB virtual instrument libraries. A lightning-fast 2.59ms* round-trip over USB-C gives the AIR192|6 the edge over most units in its class. 
Behringer U-PHORIA UM2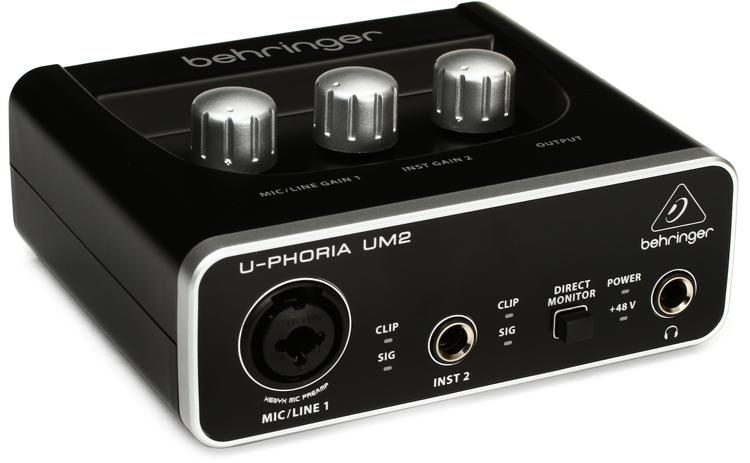 UM2 is one of the most affordable Audio Interface with great features. The amazing UM2 ultra-compact 2 x 2, 48 kHz USB audio interface allows you to record the perfect vocal or instrument tracks directly to your computer, thanks to the XENYX Mic Preamp with +48 Volt phantom power for condenser microphones – and studio-grade 48 kHz converter for superb sound quality. Whether you're a singer-songwriter, producer on the go, or just need a rock-solid interface for running backing tracks at the gig, the ultra-dependable U-PHORIA UM2 will help you shine in the digital domain.
Logic SSL 2 Interface – Professional Personal Studio
Create music and produce amazing audio. At home, in the studio, or on the road. Solid State Logic has been involved in helping musicians, producers and engineers create amazing music for 40 years, and all that knowledge and experience is at the heart of audio creation products. As the next generation of aspiring music and audio professionals, the SSL 2 professional personal studio gives you the tools and technology to make your productions stand out from the crowd.
Mackie Onyx Producer 2-2 USB
No matter what you're recording, the Onyx Producer 2-2 will deliver studio-quality sound. Premium analog circuitry ensures maximum headroom and low noise. High-resolution 24-bit/192kHz converters capture every source with impressive accuracy. And dual Onyx preamps impart a boutique-ish warmth to vocals, guitars, synths, or anything else you run through them.
PreSonus AudioBox iTwo USB Audio Interface
The PreSonus AudioBox iTwo USB audio interface is an outstanding solution for two-channel recording applications. With two Class A mic/instrument preamps and 24-bit/96kHz recording quality, you're well equipped for stereo recordings, vocal/instrument combinations, MIDI production, and much more. You also get PreSonus' Studio One.
These are some of the sound cards that are being sold mostly in Dubai and all over United Arab Emirates. We have huge collection of all kind of Audio Interfaces in our shop located in Deira Dubai. Please visit us or browse our online catalogue and we will deliver at your doorstep within few hours.
What is an audio interface used for?
An audio interface is a piece of hardware that expands and improves the sonic capabilities of a computer. Some audio interfaces give you the ability to connect professional microphones, instruments and other kinds of signals to a computer, and output a variety of signals as well.
What is a good audio interface?
The Best Audio Interfaces of 2020 are as follows.
PreSonus AudioBox USB 96.
Focusrite Scarlett 2i2.
Behringer U-Phoria UMC404HD.
Steinberg UR44.
Focusrite Clarett 2PRE USB.
Focusrite Scarlett 18i20.
Roland Octa-Capture.
Which is the cheapest Audio Interface in UAE?
Behringer UM2 is one of the cheapest Audio Interface that we sell at Audio Shop Dubai.