The microphones commonly used by studios for vocal recording are condenser microphones. These microphones have the capacity to capture the crystal-clear sound hence it's loved by the artists, singers and performers.
The dynamic microphone is better for capturing loud, strong sounds (drums or loud vocals), particularly in a live sound setting, whereas a condenser microphone is used to capture more subtle sounds and higher frequencies (studio vocals for example).
Condenser microphones are most commonly used in studios as they capture a larger frequency range and have a good transient response, which is the ability to reproduce the "speed" of an instrument or voice. They also typically have a louder output but are much more sensitive to loud sounds.
Condenser microphones almost always need phantom power. This is a 48V voltage that is usually supplied to the microphone from the mixing board or mic preamp by the XLR cable. If you're using an XLR-to-stereo-mini plug then it's probably not going to work. You could buy a USB audio interface.
condenser microphones are perfect for recording a vocal sound because they pick up everything in crisp, clear detail. Whereas dynamic microphones are considerably less sensitive than condenser mics, hence it's recommended for recording just your vocal sounds, rather than everything else in the hall or studio.
We at Sound Town Electronics offer the high-quality condenser microphones in our online store as well as the Audio shop located in Deira. Our technical expert team will suggest you the perfect solution as per your requirement. Our wide selection of hand-picked condenser mics will definitely amaze you by exceeding your exception as the great price in UAE. 
Below are some of the mostly purchased condenser microphone by our valued customers. You can choose the one from your favorite audio brand, Please feel free to click on what's app icon below if you can't find your favorite band and model that you are looking for recording your audio.
Audio Technica Cardioid Condenser Microphone – AT2020 
Audio Technica AT2020 stringent quality and consistency standards set the AT2020 apart from other mics in its class. Its low-mass diaphragm is custom-engineered for extended frequency response and superior transient response. With rugged construction for durable performance, the microphone offers a wide dynamic range and handles high SPLs with ease. The AT2020: the new standard for affordable side-address studio condensers.
Shure SM27 Professional Large Diaphragm Condenser Microphone
Shure SM27 Cardioid large diaphragm condenser microphone delivers exceptional stage and studio performance applications. Features include a preamplifier for transparency, switchable low-frequency filter, and a -15dB switchable attenuator for SPL versatility.
Rode Cardioid Condenser Microphone NT1-A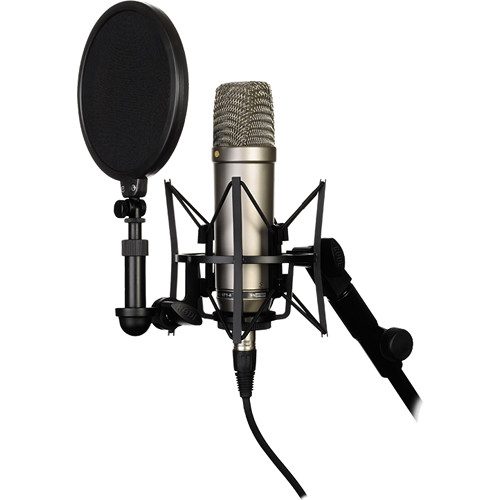 Rode Microphone NT1-A cardioid condenser microphone has become an industry standard; delivering the warmth, extended dynamic range, clarity and high SPL capability typically only featured on some of the world's most expensive microphones.
With a self-noise level of only 5dBA it is widely recognized (along with the NT1) as one the world's quietest studio microphones. This low noise makes it an ideal vocal microphone as well as perfect for recording guitars and percussion.
Behringer B2 Pro Large Diaphragm Microphone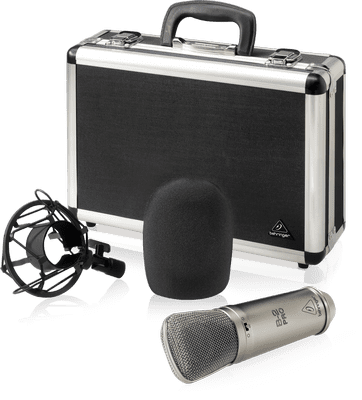 Behringer B-2 Pro is acing the list of a versatile microphone with a high-end large-diaphragm condenser. With a 10dB attenuator, it uses a high-volume signal source and 3 selectable polar patterns – cardioid, figure-8, and Omni. Along with it, there is switchable attenuation and accessories for shock mount and windscreen.
Also see Condenser Microphone if you are looking for more relatable products at great value of money.
We are just a click or call away in finding you the best condenser microphone in UAE. Call us today if you can't find what you are looking for.
Do condenser mics sound better?
Condenser Microphones provides a better sound. Condenser microphones are more sensitive and have a larger frequency response and dynamic range than dynamic microphones.
Can you record vocals with condenser mic?
For those wishing to start recording high-quality vocals and acoustic instruments/sounds with their studio setup, a condenser microphone may be the best option.
What is the difference between dynamic microphones and condenser microphones?
There is a distinction in how they operate. The sound waves are picked up and converted into an electrical signal using a diaphragm, voice coil, and magnet in dynamic microphones. Condenser microphones have an electrically charged diaphragm that vibrates and produces an electrical signal proportionate to the sound.