Are you looking for cost effective live streaming audio setup in UAE?
Streaming Live music in social media such as YouTube, Facebook, Instagram has become most common these days. You can simply start your live streaming with a smartphone from anywhere anytime. Good Quality audio makes huge difference in your live streaming video.
Audio is the 90% of your Video. Yes, you read it right J, The good quality audio makes your video 90% complete because nobody prefers to watch the video if it has creepy, noisy and bad sound in it.
Due to the rapid development of the technology and convenience provided by social media platform, it has become very easy to broadcast your creativity, talent to the world via live streaming. We are explaining some of the best and cost effective live streaming audio setup in this guide.
A good sound card for live streaming can be a game changer of your live streaming audio setup. You can choose a decent microphone at the affordable price along with the audio interface for live streaming. We are exploring some of the best available options.
V8 Sound Card with BM800
V8 Sound Card is well known for all the live strammers as it's one of the most common sound card being used for streaming live these days. It's the cost effective solution and you can make the complete setup for below AED 300.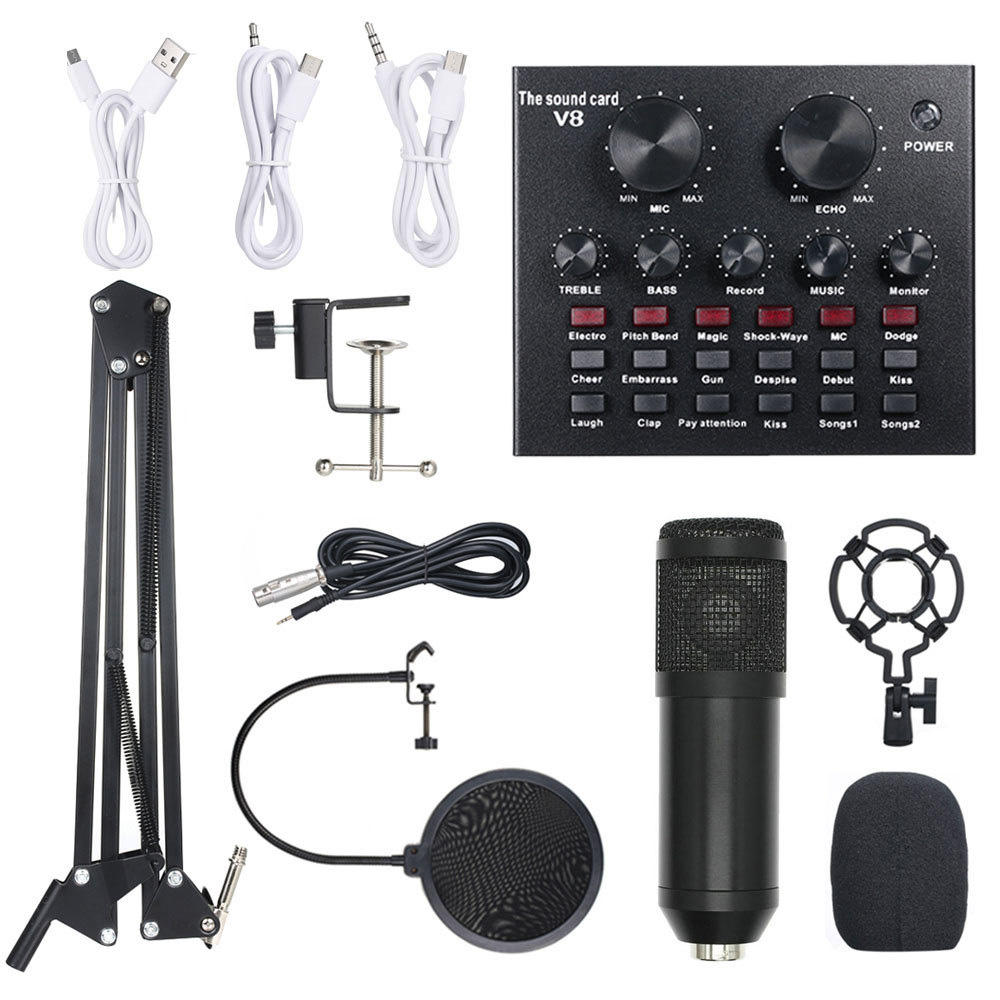 Behringer 302 USB Audio Interface with Behringer C1 Microphone
Behringer 302 USB Sound Mixer with Audio Interface and C1 Microphone can be best upgrade if you are already using V8 Sound Card. This setup requires one cable that takes the audio from the mixer to your mobile phone. Sound Town electronics will offer you the cable as free gift :).
Roland Go Mixer with Shure SM58 Microphone
GO:MIXER allows you to combine five sources at once via inputs for a vocal mic, guitar, stereo keyboard, and two stereo line-level devices (such as music players, drum machines, etc.). Just set up your best live mix while monitoring the sound. With GO:MIXER, all your audio mixing needs are covered in one tiny box. Roland Go:MIXER with Shure SM58 makes a great combination for starting a great live streaming.
Marantz M4U
The Marantz Professional M4U is an electret condenser microphone system designed to be used with a personal computer however it can be used with your mobile phone also with the cable that we offer as a gift.  The system incorporates a USB A/D converter with a headphone output so the user can monitor the microphone pickup in real time without latency. 
These are some of the best options available however we can suggest you many other options if you come to our shop. As we promise, we don't just sell but we help to find a solution for your requirement hence please pass by our shop to discuss on your requirement. We are located in Deira Fish Round about. Please click on the what's app icon below and ask for the Location pin for Sound Town Electronics.
PS: You may find cheaper V8 Sound Card and BM 800 Condenser microphone in other online stores but we guarantee that our product works the best and we offer limited time warranty.