Description
Yamaha MG10XU Analog Mixer Features:
Yamaha MG10XU Professional Mixer has D-PRE mic preamps deliver clean, transparent, and natural sound
3-band EQ on all mono channels for sound-shaping
1-knob compressors provide straightforward dynamics control
Class-compliant USB 2.0 for recording and playback with computers and tablets
SPX effect processors provide you with a comprehensive suite of 24 effects
Pad switch on mono inputs for managing loud sources
Yamaha MG10XU Professional Mixer is Metal chassis for durability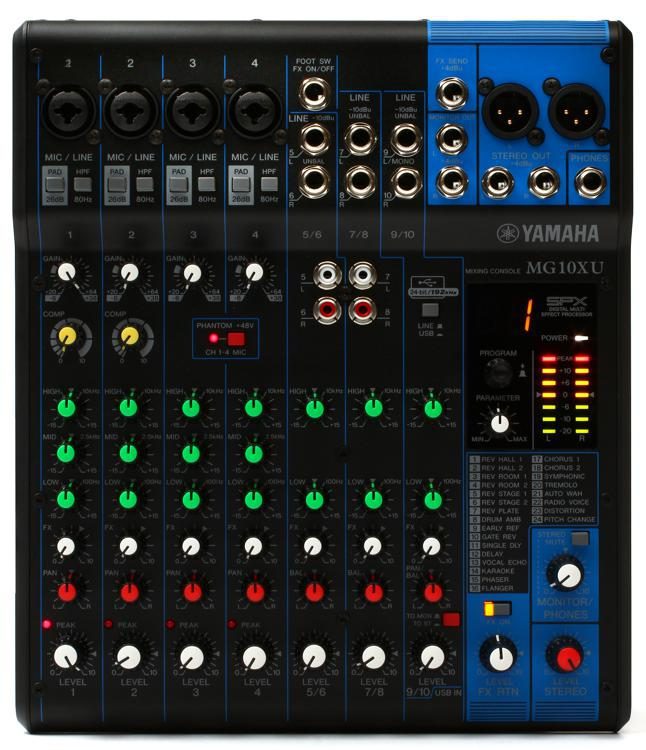 Yamaha MG10XU Professional Mixer use the software monitor instead of the built-in monitor when recording, because that's the sound you're really recording. Pan full left for the recording instrument and full-right for the playback of what you already have. Only record the left audio-output to make sure that the playback isn't automatically mixed into the recording of the instrument if you don't want that.
For more than a century, Yamaha MG10XU Professional Mixer has been building a legacy of superior craftsmanship and innovation exemplified in all of our products, from an unrivalled catalog of world-class musical instruments to touring-grade professional audio. Now in its third incarnation, the MG Series embodies this pursuit of design excellence, and incorporates some of the same technologies developed for use in high-end professional consoles, including studio-quality preamps, powerful digital processing, and a rugged, reliable construction.
With an intuitive, easy-to-use interface, the MG Series boasts an extensive lineup of compact mixing consoles with models ranging from six to twenty channels, suitable for a diverse range of users and applications. For installed, recording, or live music settings, the solid construction and flexible design of these consoles lets you shape your sound with confidence, continually delivering peak performance and a level of sound quality and reliability unrivalled in its class
Shop at our shop at cheap price: Audio Shop Dubai