M-Audio launched new USB audio interface M-Game which has the ability to adapt changing trends and try new things. These devices are designed for live streaming, content creation, and can be used for both PC and console gamers. They provide inputs for your microphone/headset and mobile device as well as output for both headphones and speakers.
For any audience, M-Game offers high-quality streaming, improved performance and fun. M-Audio New M-Game Mixer includes dual USB RGB model and a solo box.  The new RGB Dual and Solo and M-game software, powered by M-Audio delivers distinctive and unique features for easy setup and customization.
It is created by the gaming experts at M-game in partnership with the audio engineering design team at M-Audio. Your best streaming experience is here.
Key Features of M-Game Solo
Single USB livestreaming audio interface which combines LED lighting effects, sampler and voice shaping effects with a professional audio interface and physical mixing control surface.
Connect any microphone to the M-Audio preamp to improve the sound.
Gaming PC can also be connected via the USB port to further enhance your audio.
Gaming console can be connected via an optical In, and any additional audio devices such as smartphone and tablet can be connected via 8pin stereo.
Provides real-time mixing control of all the audio outputs in a large center control knob, allow adjustment of headphone, headset to the speaker level.
Buy M-Audio M-Game Solo
Key Features of M-Game RGB
Professional dual USB streaming audio mixer with RGB LED illumination.
MGame RGB Dual offer complete control over a live broadcast, making it simple to combine audio from several streams, including music, microphone, chat game, and a sampler.
Improve the sound by connecting any microphone to the built in M-Audio preamp and using tools like gate, compressor, high pass filter, EQ, Mic booster and De-esser.
An optical game console input as well as an 8-inch stereo input are accessible for any extra audio devices, such as phones and tablet.
Dual USB ports enable simultaneous connection for gaming and streaming computers. With connections and effects MGame RGB create an entertaining live stream.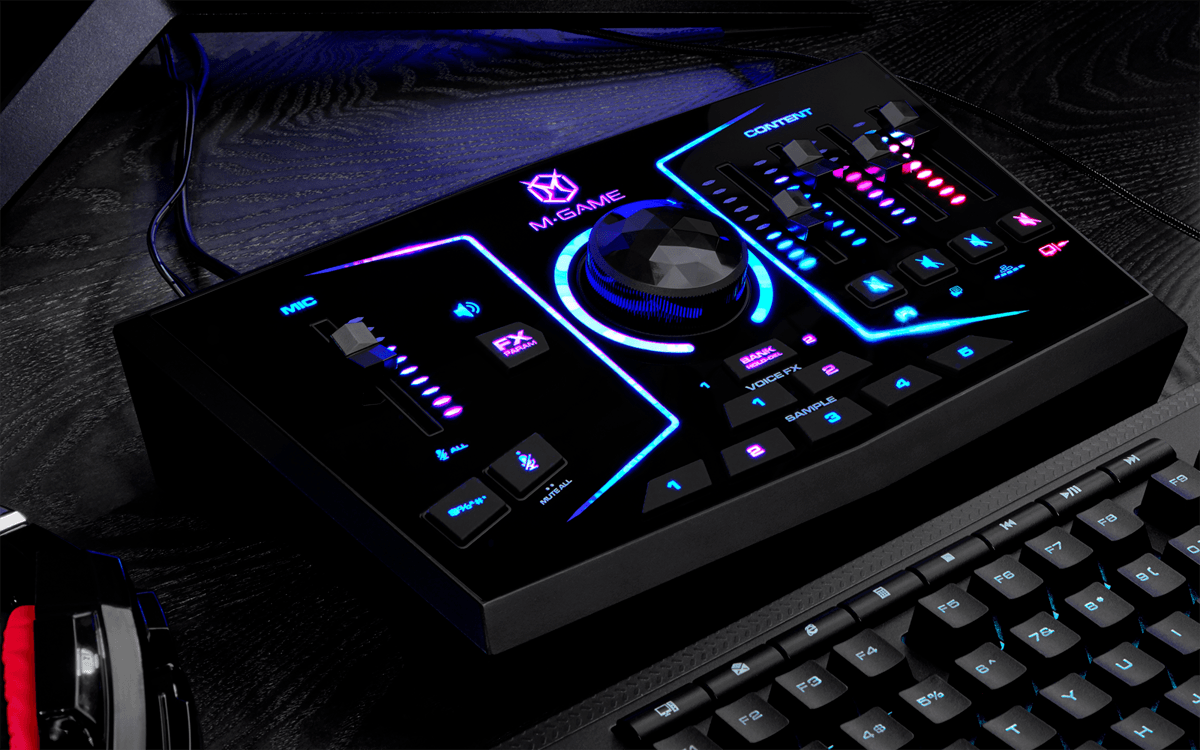 Buy M-Audio M-game RGB Dual
Both Mac OS X 10.15 and windows 10 or higher are compatible with M-Game products. The free M-Game software is provided with interfaces and allows you to customize settings and configure inputs, outputs and other features.
The M-Game RBB dual and Solo audio interfaces are now available at AED 992  and AED 624 respectively. Find out more on Audio Shop Dubai which is one of the best musical instrument shop in Dubai, UAE.