Description
Audient EVO 8 USB Audio Interface Features:
4 transparent Audient EVO preamps
JFET instrument input
Class-leading conversion
Ultra-low latency performance
24-bit/96kHz sample rate
Two front-panel headphone jacks
Two stereo monitor outputs
Bus-powered over USB 2.0
Smartgain automatic level-setting feature
Loopback functionality
EVO Control app
Included software and plug-ins package
Professional performance at an entry-level price
Don't let the price point fool you! The Audient EVO 8 USB Audio Interface is packed with professional-level components and functionality that deliver high-quality performance and stunning audio. Class-leading converters, along with a 24-bit/96kHz sample rate and a 113dB dynamic, ensure that you're capturing pristine, distortion-free sound. Built to Audient's high-standards, the EVO 8's mic pres are transparent and flattering, and the JFET instrument input adds just a touch of color for a rich and satisfying sound. The EVO 8 has two stereo monitor outputs and two front-panel headphone jacks, and it's powered over its USB 2.0 connection — so no need for an additional power adapter. And, the large volume knob feels great and gives you precise control over your monitor mix and input levels.
Audient EVO 8 USB Audio Interface Innovative Smartgain function automatically sets input levels
The Audient EVO 8 features an innovative Smartgain function, which helps you set gain quickly and accurately so you can get to the business of creating without worrying about clipping and distortion. The way it works is simple. Just press the Smartgain button and select the channels you want to use to record. The Smartgain LED will flash red to indicate that it's listening. Then, start playing, singing, or speaking into your microphone, and Smartgain will automatically and correctly set the input level. Smartgain is a total gamechanger for new engineers, podcasters, and solo recordists, that will speed up the recording process and give you great results every time!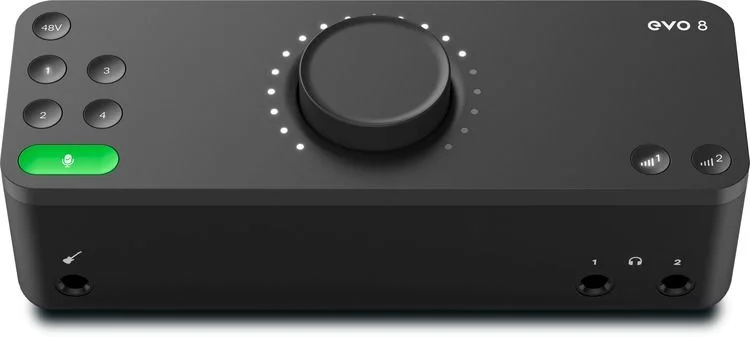 Loopback functionality is tailor-made for live streaming
The Audient EVO 8 is tailor-made for live streaming, thanks to its loopback functionality. Whether you're capturing audio during gameplay, recording a Skype conversation, or delivering a podcast, the EVO 8 enables you to blend your mic or other input signals with the output from your computer, then sends the blended signal back to your computer. This makes recording your computer's output, plus your inputted material, a breeze. What's more, the EVO 8 includes a built-in loopback mixer with its own dedicated software. By opening a small mixer window on your computer, the EVO 8 gives you the ability to take audio playback from your computer, balance its level, then capture it with your DAW or send it straight to a streaming service.
Take command of your session with the EVO Control app
The Audient EVO 8 includes the EVO Control app — a small application that's compatible with both MacOS and Windows. This convenient app empowers you to make fast, easy adjustments to the EVO 8's hardware directly from your computer. EVO Control is a really all-inclusive app, enabling you to set and monitor levels, mute microphones, activate Smartgain, and more without touching the audio interface itself. The application's interface boasts the same sleek aesthetics as the EVO 8 itself — right down to the unit's attention-grabbing meter ring.