Putting on a new set of the best electric guitar strings is one of the fastest ways to freshen up your beloved axe. Whereas something like your electric guitar or guitar amp can grow old gracefully, your strings need to be changed more often.
4 signs your strings need replacing
Why? Because electric guitar strings, like acoustic guitar strings and even guitar picks, easily accumulate a build-up of dead skin, sweat, dirt, dust and other debris – some of which will be visible to the naked eye, and some not. All of these can tarnish your strings and make your guitar sound lifeless. They're also pretty gross, too.
Another good reason to switch to a new set of strings is that any changes in humidity or heat of the room your guitar is regularly stored or played in could also lead to bland, dull tones.
We've put in the hours testing all sorts of string sets, from the biggest and most innovative brands in guitar, to bring you our pro guide to the best electric guitar strings.
Although guitar strings are a pretty inexpensive purchase compared to something like a new acoustic guitar or pedalboard, they can help you break out of a creative rut by giving your guitar a new lease of life.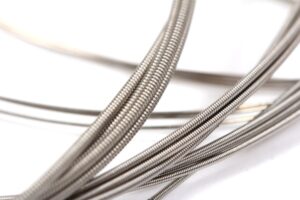 Audio Shop Dubai offers various model of Electric Guitar Strings   at the best price in UAE. We have Electric Guitar Strings,  from Enrieball,  PRS and Many More. Select your choice to buy best Electric Guitar Strings,  in UAE.
Electric Guitar Strings
Showing all 4 results