Boom Arm Buying Guide – Are you wondering which boom arm is right for you? Well, we will be providing you the depth information in this guide so that you can buy with the peace of mind. The boom arm not only gives a glamorous view for your setup but it also makes your life easier while recording at home or studio.
If you are setting up a podcast studio, livestreaming set or voiceover booth, it is very important to know how to setup your microphone boom arm hence it's very critical to know the features of the boom stands so that you will know which one will be the best as per your desk and setup.
Let's start with basic of Microphone boom arm.
What is boom arm?
A boom arm is simply an adjustable "scissor arm" that clamps on to a desk or table and holds the microphone so that it can move freely without making any sound. The arm moves up and down and swivels from side to side, providing more mobility and more room on your work surface. It's perfect for those who are recording from a sitting position and eliminates the need to stay in one position for great lengths of time.
Why the boom arm is required?
When recording a podcast for 30 minutes or more, it can become quite uncomfortable sitting in the same position, unable to move much for fear of shock noise. A boom arm not only lets you move freely, but it will also minimize shock noises that can reach your microphone if it's directly on a flat surface.
A boom arm also takes up no space, leaving you with more space for a script or for resting your arms. With a stationary stand microphone, not only are you stuck in the same position, you risk picking up back and side noises. It is designed to help eliminate shock noise if you or a guest are physically animated when talking. If you tend to speak with your hands, a stand mic will pick up even the slightest rustle of your shirt or your fingers rubbing together. Even if you don't hear it, your microphone will. 
In this Microphone boom Arm buying guide, we are presenting some of the best sellers boom arms which really gives value to your money when you are buying it for your requirement.
List of best Microphone Boom Arms
Warm Audio WA-MBA Microphone Boom Arm
The new WA-MBA professional broadcast boom arm from Warm Audio adds the finishing touch to your broadcast or streaming setup, allowing you to properly position your microphone for ultimate sound quality. With a hidden internal cable management system and easy-to-grab tension hinges, getting the professional appearance and performance you've been looking for onstream has never been easier.
The Warm Audio WA-MBA Microphone Boom Arm is a premium quality product which features some of the best and coolest features as mentioned below.
Premium broadcast boom arm, designed for professional broadcast scenarios.
Easy-to-grab tension hinges make positioning your microphone a snap.
Hidden internal cable management system to keep cabling out of sight and under control.
RODE PSA 1 Swivel Mount Studio Microphone Boom Arm
The Rode PSA1 is a professional studio boom arm that allows easy and precise placement of a microphone. It features an innovative parallelogram design that keeps the mic direction constant as the height is adjusted, as well as internal springs for quiet operation.
Key Features of Rode PSA 1:
Professional studio arm
Ideal for radio, broadcast, studio, and home use
Internal springs for quiet operation
Includes both threaded desk insert and desk mount clamp
Supported microphone and shockmount/clip weight between 700g to 1.1kg
Sontronics Elevate Broadcast Boom Arm
The Sontronics Elevate is a multi-positional desktop microphone stand ideal for any workspace.
Designed as a perfect partner for our best-selling Podcast Pro microphone, the Elevate stand is designed to suit any podcasting, voiceover, gaming or home working set-ups.
It can be easily moved into a variety of positions thanks to the three lockable joints, while the channels and clips along the length of both internally sprung arms help keep your cables neat and tidy.
You can fit the Elevate to your desk or work surface using the clamp option – allowing you to move or remove the stand quickly and easily – or you can permanently fix it in place using the supplied mounting boss.
Sontronics Elevate Features:
Perfect Partner: Ideal accessory for studio or home recording
Amazing Value: Premium quality but will suit all budgets
Podcast Friendly: Perfect for podcasting at home or on the go
Hugely Popular: Our Number 1 best-selling accessory
MACKIE DB-100 Desktop Microphone Boom Arm
Record easily from your desktop with the DB-100 Desktop Microphone Boom Arm from Mackie. This articulating boom arm can be positioned to all kinds of angles for the ideal placement of whatever mic you use.
The Mackie DB-100 Desktop Microphone Boom Arm is an accessory that anyone working with the spoken-word can employ at their desktop setup. It's a boom arm that attaches to your desk, thus removing any need for a bulky, intrusive mic stand in your home studio.
Sturdily constructed out of steel, the DB-100 clamps to any desk and can be adjusted to position the mic in the perfect place, whatever that means to you. A standard mounting thread will interface with nearly any microphone clip. Hook-and-loop straps are included for cable management.
Bespeco – MSRA10 Desktop Microphone Stand
MSRA10 from Bespeco is a desk microphone stand with flexible arm for studios and multimedia workstations.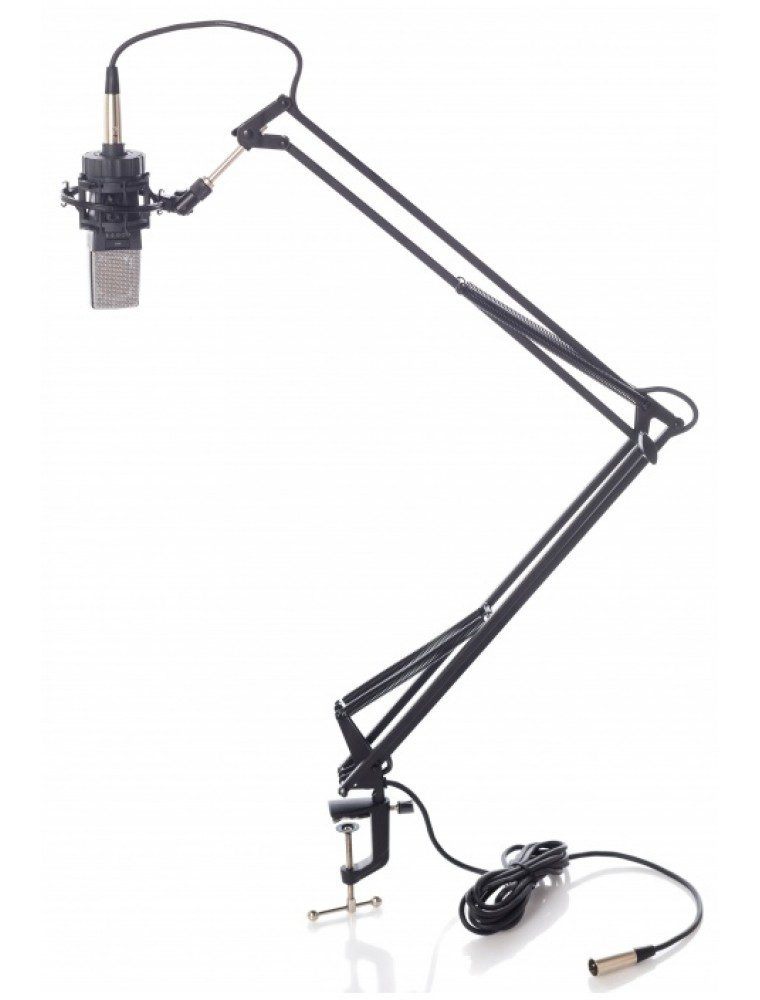 Bespeco MSRA10 has tightening clamp for top table surface up to 55 mm. It includes threaded adaptor and microphone cable.
NB-39 Professional Recording Microphone Boom Arm
NB-39 is a Professional Recording Microphone Boom Arm allow you to carry it with you easily and adjust the suitable angle & height to show your perfect voice. It is suitable for any stores, families, stages, studios, broadcasting and TV stations, etc. Allow you to carry it with you easily and adjust the suitable angle & height to show your perfect voice. It is equipped with super-strong spring so that it can stand much more weight. Can be used in various places and its elegant outlook suits all kinds of occasions.
NB-39 Features:
The scissor arm stand is made out of all steel construction, sturdy and durable.
Folding type, convenient to carry. Stable, tough, and affordable. Can be mounted on the announcers' table..
The double-braced arms add strength. Your microphone is held safely on this scissor arm microphone clip.
Max. Microphone Clip Diameter is 1.26″/32mm. 2.Microphone and Filter Shield Mask NOT Included..
Composed of 2 pieces: (1)Scissor Arm Stand with Handheld Microphone Clip for Handheld Microphone and (1)Table Mounting Clamp.
Though there are several Brands and models for Microphone Boom arm in the market, the above mentioned models are some of the best selling ones at Audio Shop Dubai by Sound Town Electronics. Please feel free to reach us if you need any help in deciding the right microphone boom arm for your requirement.