A wall mount wins as the best choice for surround-sound speakers. If you have a bipole or dipole type speaker, the upper range of six to seven feet up is ideal to give a more diffuse sound. Since around four feet is the lowest you want to place a surround speaker, a wall mount is ideal for these speakers and that goes for both side and rear surrounds.
Almost every type of speaker produces a far more superior sound when wall-mounted. For one thing, wall mounts are designed to ensure sound doesn't reflect in a way that negatively affects your experience. For another, most speakers give you the best sound when they're at or slightly above ear level.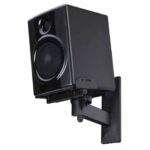 Audio Shop Dubai offers various model of Wall Mount Speaker at the best price in UAE. We have Wall Mount Speaker  from Ahuja , Australian Monitor , Electro Voice and Many More. Select your choice to buy best Wall Mount Speaker in UAE.