Reloop KUT Digital Battle features :
Digital 2-channel battle mixer for turntablists and scratch artists
innoFADER supplies buttery smooth operation and unmatched cutting precision
Crossfader and linefader curves can be tailored to personal preferences
Solid steel 8mm fader stem can withstand punishment from aggressive scratching
Crossfader reverse function for hamster-style scratching
Plenty of I/O for your mic, turntables, and other sound sources
7 integrated effects for injecting your performances with dynamics and excitement
3-band EQ with switchable classic/isolator modes
Built-in 8-in/6-out USB audio interface captures excellent 24-bit/96kHz sound
DVS-enabled for software with freely configurable audio interface support
An array of MIDI-compatible control elements
Visually separated panel layout for easy navigation
Eye-catching brushed black aluminum and metallic gold finish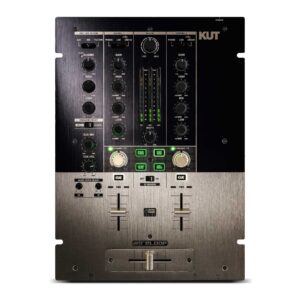 Shop at the best price ever : Audio Shop Dubai
Reloop is proud to introduce KUT, a digital 2-channel battle mixer, which impresses with its classic design and modern features. The development of this mixer was focused on the art of turntablism and scratching.
The RMX-90 DVS complies with the highest quality standards and its construction stands out due to a sturdy build inside the metal housing where the bolted pots have been fixed in. The surface of the RMX-90 DVS is varnished in deep black metallic finish and is both durable and visually appealing.
High Performance Club Mixer for Serato DJ Pro
On-board Serato sound card incl. 2x Serato NoiseMap™ control vinyl
12 Beat FX, channel filters, USB hub & MIDI support
It combines the advantages of an analogue club mixer with the endless possibilities of the digital vinyl world.
The Reloop KUT Digital Battleis a four-channel Serato DJ and Serato DVS-compatible mixer. It offers the closest "one-box solution" for new Serato users yet to come to market, and is a solid choice despite some cosmetic shortcomings.
Together with its very smooth battle line-faders, KUT is particularly well-suited for precise cutting thanks to the supplied innoFADER, with its non-contact technology meeting even the highest standards. Crossfader and linefader curves can be customised and adapted to personal preferences. KUT also has a crossfader reverse function (hamster switch).