Description
Yamaha F310 NT Guitar is  6-Strings Acoustic Guitar. it's an excellent quality instrument at a truly affordable price. Its dreadnought style body provides loud acoustic tone with comfortable playability. The Yamaha F310 Guitar is the UKs best-selling budget acoustic guitar so I wanted to give it a test to see why and, I have to say, I was quite pleasantly surprised.
Let's face it you know where you are with a Yamaha. They seem to be able to consistently produce top quality guitars at amazing prices.  Take the Yamaha Pacifica range as a very good example.  This is a range of excellent quality super strat style guitars which delivers everything that you would want at a very good price.
The question is can they do the same thing with their acoustic guitars.
The body of the Yamaha F310 is made from a combination of good quality but economical tone woods. The sides and back use locally sourced tonewoods which is essentially whatever wood they have available when the guitars are constructed.  If you check the Yamaha website it states that as part of their sustainability strategy various tonewoods are used dependent upon availability.  This I think is to be applauded as we are all for the use of sustainable wood in our guitars.
The top of the Yamaha guitar is made from a great looking piece of Spruce.  Spruce is the wood of choice for the resonant top portion of the guitar due to its excellent tonal properties so it is good to see this wood being used in the F310.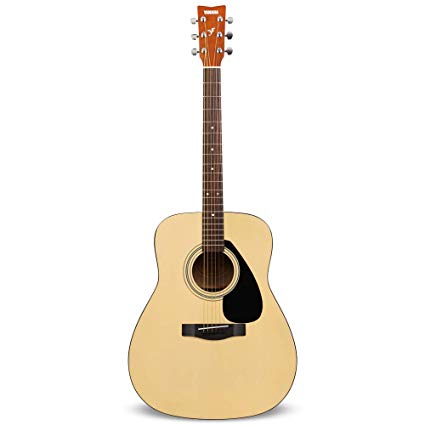 Yamaha F310 Guitar features :
Body Shape: Dreadnought

Top: Spruce

Back / Sides: Meranti

Fretboard: Rosewood

Finish: High Gloss

Neck: Nato
Bridge: Rosewood
SPECS
Body Finish: Gloss
Strings Scale: 634 mm (25″)
Body Depth: 96-116 mm (3 3/4″-4 9/16″)
Finger Board Width: 43 mm (1 11/16″)
Audio Shop Dubai by Sound Town Electronics is an authorized reseller of Yamaha Musical instruments in UAE.
Is Yamaha F310 good for beginners?
The Yamaha F310 is the best acoustic guitar suitable for beginner. This Folk Guitar by Yamaha comes with the Metal strings and they sound great. It is also considered to be the easiest guitar to play.
Is Yamaha F310 a good guitar?
The Yamaha F310 is one of the best acoustic Guitar. The manufacturer has built this guitar with lots of attention to the detail. It not only look good but sounds well as well.
Which String is used in Yamaha F310 Guitar?
Yamaha F310 uses the metal strings which sounds perfect as an acoustic guitar.
Where can i buy Yamaha F310 in Dubai UAE?
Audio Shop Dubai is the authorized Yamaha musical instrument reseller in Dubai and United Arab Emirates. We offer the best price compared to the market.