Casio Mini Keyboard SA-78 features :
100 tones, 50 rhythms and 10 integrated songs

Piano tone/organ tone one-touch button

LCD display

Melody on/off (Lesson part: Melody part)

The lower housing on the SA-78 is vivid pink.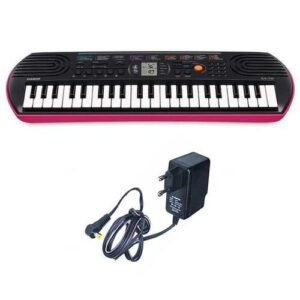 Shop at the  best price : Audio Shop Dubai
The 44 key Casio SA-78 offers children the essentials for playing those first tunes. 100 tones, 50 rhythms, and 10 integrated songs provide variety. The LSI sound source and the 8-note polyphony ensure good sound quality. The LC displace helps with selecting different music options. The SA-78 also includes a striking change-over switch making it easy to switch between piano and organ modes.
Start your child's musical journey with an easy, fun, portable, and durable keyboard that will delight and inspire them for years to come. The SA-78 has 44 mini keys that are just right for small hands, plus five drum pads for budding percussionists. 100 built-in Tones, 50 Rhythms, and 50 play-along Songs open up a whole world of musical exploration, with notation and rhythm count always visible on an easy-to-read display. Thanks to its built-in speakers, headphone output, carrying handle and optional battery power, the SA-78 is perfect for making music anytime, anywhere.
More about Casio Mini Keyboard SA-78 :
100 Tones, 50 Rhythms
44 mini keys
Built-in speakers and headphone jack