Piano-style keyboard
An easy-to-play keyboard with an appearance resembling that of an acoustic piano.
Digital effects
Use effects to add reverb for more depth and breadth in your music.
Add to the fun by linking the keyboard with the downloaded Chordana Play app in your smart device.
[Availability] LK-265, CTK-3500, CTK-2550, CTK-2500
CTK Series keyboards do not offer Key Lighting.
Expand the keyboard's store of built-in songs
Casio CTK-2550 Keyboard u se an audio cable to transfer 50 built-in songs from the app as well as songs downloaded as MIDI files and save them in the keyboard. You can then use the saved song data with the keyboard accompaniment function to enjoy the Step Up Lesson feature.
Songs stored in the keyboard may sound different from original built-in songs.
Shop at the best price : Audio Shop Dubai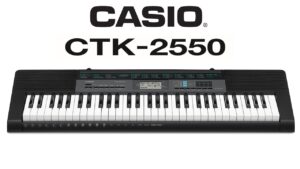 The Casio CTK-2550 portable keyboard has plenty of features that are designed to take you beyond the initial learning steps. An auxiliary input lets you play along with your own music, and there is an input for a sustain pedal, enabling more realistic, satisfying piano practice and performance. On top of that, you get a headphone output, so you can practice quietly and privately. But best of all, the CTK-2550 integrates seamlessly with Casio's free Chordana Play app for even more keyboard-learning fun!