Yamaha CPX500III Acoustic Guitar is a great guitar which sounds great and is available at the best at our store.
With an exclusive Medium-jumbo body, CPX guitars boast powerful, rich bass combined with smooth, delicate highs and sweet mid-range for an open, modern voice. Non-scalloped X-type bracing ensures a powerful yet controlled tone that allows the guitar to deliver strong, rich acoustic sounds while still remaining clear and usable on-stage.
The medium-jumbo body CPX delivers an open, modern tone with powerful, rich low-end, smooth, delicate highs, and sweet mids. Non-scalloped X-type bracing ensures a strong, rich acoustic tone that remains clear and usable on-stage.
CPX's conventional round soundhole focuses the midrange, while controlling bass, for a direct, powerful sound.
System 66 features an under-saddle piezo pickup developed by Yamaha. Controls include a 3-band equalizer, an adjustable mid-range frequency control, and a precision chromatic tuner for optimum sound tailoring. The system is powered by easy to obtain AA-size batteries that provide a stable power supply for improved sound quality.
Features of Yamaha CPX500III Acoustic Guitar :
Medium Jumbo Body For Full-bodied Acoustic Tone
Spruce Top
Stage-focused Pickup Sound to Cut Through a Mix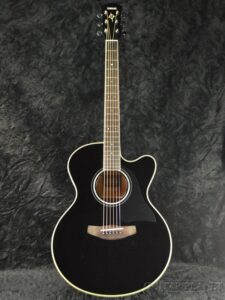 You can buy each and every product of Yamaha at the best price then please feel free to visit our shop .