Description
Universal Audio APLS-HE Apollo Solo Heritage Edition Audio Interface is available at Sound Town Electronics at the most affordable price in UAE.
Universal Audio APLS-HE Apollo Solo Heritage Edition Audio Interface Features
Thunderbolt 3 audio interface with 2 analog inputs and 2 analog outputs, plus 1 instrument input and a stereo headphone output
Sounds amazing, with next-generation AD/DA for maximum fidelity
Use outstanding UAD Powered Plug-ins for tracking and mixdown
Preamps sound pristine, and Unison technology gives you spot-on emulations of classic preamps
Includes a premium plug-in suite of 5 award-winning UAD plug-ins, along with the Realtime Analog Classics plug-in bundle with accurate emulations of vintage analog hardware
Thunderbolt gives you ultra-low latency and huge bandwidth for higher sample rates and track counts
Compact, bus-powered design makes it perfect for mobile recording, mixing outside of your studio, and even performing live
Compatible with UA's LUNA software for ultra-tight hardware/software integration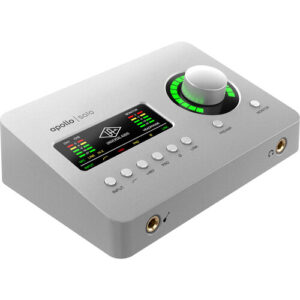 Bridging the gap between your UAD-equipped studio and everywhere else
If you mix with UAD plug-ins in your studio but also like to record and mix outside your studio, the Apollo Solo is the missing link you've been waiting for. With just your laptop and the Apollo Solo, you can easily take powerful UAD processing anywhere you go.And the live sound possibilities are awesome: use the Apollo Solo as a real-time processor for your bass or guitar and take your studio sound onstage. If you're an electronic music producer who also DJs, using the Apollo Solo as your live performance interface will give you huge, detailed sound that will make other DJs jealous.So, while the Apollo Solo is a great entry point for new UAD users, it's also the perfect way to take your existing UAD-powered projects on the road.
Compatible with LUNA — UA's complete music production environment with ultra-tight hardware/software integration
This Universal Audio Thunderbolt-equipped audio interface is compatible with UA's free LUNA software. LUNA is a complete music production environment for tracking, editing, and mixing. And thanks to its ultra-tight hardware/software integration, you can take control of your interface's monitoring, talkback, and headphone systems, track and overdub with UAD DSP-accelerated plug-ins in real time, and benefit from full software-based control over Apollo's Unison mic preamps, all without leaving your production software. LUNA is the closest you'll come to an analog workflow in the software realm. It delivers spot-on analog sound, along with the creative immediacy of real-time processing.
LUNA also includes Accelerated Realtime Monitoring, which supplies fast analog-style tracking and overdubbing using Apollo's onboard DSP acceleration. Anyone who's used a high-end DSP-assisted hardware/DAW recording system will appreciate the super-tight integration between LUNA and Universal Audio interfaces. LUNA also supplies you with unlimited track counts, contextual editing and browsing, UAD and AU plug-in compatibility, a session auto-save function, and AAF importing.
LUNA software comes with the Shape Creative Toolkit, a superb virtual instrument with modern and vintage keys, drums/percussion, guitar/bass, orchestral content, and real-time synthesis, plus the Oxide Tape Extension, a killer saturation effect, right out of the box. But to get the most out of this system, you'll want UA's LUNA Creator Bundle  (sold separately). This bundle includes ultra-realistic Neve 80 Series console and Studer A800 multitrack tape extensions, plus two software instruments. The best part about LUNA extensions is that once you install them, their sound is baked right into LUNA's mixer — no need to instantiate a bunch of plug-ins.