Description
And you also get to explore the endless creative possibilities offered by the latest digital technology. Since creating the world's first touch-sensitive electronic piano in 1974, Roland has become a leader in digital piano innovation – and the new Roland GP609 white embodies our belief that advanced technology and know-how can take your music further.
Roland GP609 white Features:
Classic 4.9'/150 cm depth grand digital piano, and light weight 325 lbs./148 kg
Built-in 6.1-channel multi-speaker system (six speakers/one woofer) powerful enough for sound projection in a small hall
SuperNATURAL Piano Modeling technology for a rich, living sound
Authentic grand piano touch from the new PHA-50 Progressive Hammer Action Keyboard with Escapement, which combines the look and feel of wood with the durability of modern materials
Music playback from a smartphone or tablet via Bluetooth wireless connectivity
MIDI over Bluetooth for connecting to a world of exciting apps such as Roland's Piano Partner 2, which encourages daily piano learning and makes practice fun
Headphones 3D Ambience technology for natural, realistic sound when practicing privately
Variable lid height with two prop sticks
Movable with casters and maintenance-free
Two elegant finishes to complement your living room: polished ebony or polished white
SuperNATURAL Modeling for Performance That Feels Real
If you've played acoustic pianos for years, you might conclude that nothing can recreate that evocative tone and feel. Press a key on the GP609 and reconsider. This latest digital instrument features Roland's acclaimed SuperNATURAL Piano Modeling, replicating the entire sound creation process of an acoustic piano, for a rich, complex tone. You'll be inspired by a unique keyboard that blends wood and molded materials for great feel and durability, while even the most demanding players using advanced techniques will be satisfied by the expressive Progressive Damper Action pedal.
Roland GP609 white PHA-50 Keyboard
Traditionalists will immediately feel at home with the GP609's keyboard. The keys recreate the look and feel of real ebony and ivory, complete with moisture-absorbing properties that ensure your fingers won't slide off. But while each key has sophisticated wooden sides, the internal frame is made from modern molded materials, connected to high-resolution sensors that will endure for years to come. The benefit is not only authentic playability, but also a consistent feel during temperature and humidity changes, saving you the maintenance costs associated with a traditional keyboard.
Progressive Damper Pedal
Featuring Roland's Progressive Damper Action pedal mechanism, which closely replicates the pedal response of an acoustic piano, the GP609 can support the most expressive and nuanced techniques. Just as you'd expect from an acoustic piano, when you start to depress the damper pedal, it offers lighter resistance, but as you depress it further, the resistance increases. Meanwhile, when a musical piece demands a lighter touch, you'll also benefit from the more accurate 'half-pedaling' response, with the depth of the damper pedal allowing subtle control of tone decay.
Roland GP609 white- Luxurious Appearance and Authentic Grand Piano Feel
Although packed with advanced technology, the GP609 is reassuringly traditional when it comes to style. Combining classic lines with a space-saving compact grand piano cabinet, there are two premium finishes available; polished ebony, and polished white.
Roland GP609 white Premium Grand Piano Feel
Gorgeous in every detail, the GP609 is a high-end instrument that will complement any environment. The polished ebony and white finishes are stunning, and the light brown soundboard further enhances the premium look. Just as with acoustic grand pianos, the GP609's fallboard reflects the performer's hands as they play. Completing the elegant look is the understated front panel — inviting, clear, and easy to use.
Light-Weight and
Space-Saving Design
Although the GP609 is light-weight (325 lbs 5oz/148 kg) and compact (59-1/8 inches/ 1,501 mm), its grand piano aesthetic is unmistakable. It's nearly half the weight of an acoustic grand piano too, and much easier to install or move.
Roland GP609 white Casters
Built-in casters help you move the piano around and find the perfect position, and the space-saving footprint means you can play a grand piano even where there is limited space – whether at home or at a venue.
Advanced Digital Design. Traditionally Elegant Appearance.
Once you're ready to play the piano, you don't even need to press the power button to begin – just open the lid and start playing.
Room-Filling Tone from Specially-Designed Speakers
One of the joys of a traditional acoustic grand is the commanding natural tone and projection. The revelation is that the Roland GP609 achieves the same head-turning effect, thanks to a built-in sound system whose specially designed multi-channel audio technology delivers an immersive spatial sound that appears to come from the very heart of the instrument. Whether you're playing at home – or in larger venues from restaurants to hotel lounges – you can rely on a powerful, expressive and controllable sound that fills any space.
Roland GP609 white Acoustic Projection
Roland's Acoustic Projection system is a multi-speaker setup that produces rich, immersive tones in minute detail, with each speaker playing a specific role in the overall sound. Powerful cabinet speakers produce the expansive main piano sound in both upward and downward directions, while spatial speakers on either side reproduce the resonance of the piano's frame to expand the left/right sound fields. The nearfield speakers project the more noticeable sounds including dramatic, dynamic overtones and even the noise of the hammers as they hit the piano strings.
Roland GP609 white Headphones 3D Ambience
The great thing about digital pianos is using headphones for silent practice. Good headphones provide remarkable clarity, but some pianos don't take advantage of this; instead merely switching the sound from speakers to the headphones. Roland pianos use Headphones 3D Ambience to optimize the audio so it sounds like it's coming from within the piano itself and not through your headphones, giving a completely immersive playing experience. Using either 1/4-inch or 1/8-inch mini jack input, just plug in your headphones and lose yourself in the music – any time of the day or night.
Roland GP609 white Expand Your Creative Range
People often play piano along with their favorite songs stored on their smartphone. With built-in Bluetooth® wireless support, the GP609 goes even further by streaming your music through the piano's powerful internal speakers for an inspiring and immersive experience. Installing Roland's free Piano Partner 2 app on your tablet lets you learn and enjoy playing piano, without any wires – thanks to Bluetooth technology.
Transforms Into an Impressive Bluetooth Speaker System
Sometimes you want to make music. Sometimes you just want to sit back and enjoy it. Either way, the Roland GP609's high-quality speaker system will fill your home or venue with rich, exceptional sound. When you're playing piano, you get full-bodied, volume-controllable sound through the 6.1 multi-channel speakers. When you're entertaining friends, Bluetooth audio functionality allows the piano to replace your hi-fi, wirelessly connecting to your tablet or smartphone and playing your favorite songs and playlists through the speakers.
Connect To Your Smart Device and Make Piano Practice Fun
Ensure piano practice is a pleasure and not a chore by using the GP609's integrated Bluetooth MIDI functionality. You can wirelessly connect to educational apps like Roland's Piano Partner 2, accessing digital sheet music, song libraries, and more. And when you're just relaxing, the dedicated app for Apple Watch lets you control the GP609's internal song library from the comfort of your sofa.
Over 300 Inspiring Sounds To Spark Your Imagination
The GP609 includes over 300 versatile sounds, with an extensive selection of non-piano instrument types including strings, brass, organ, and many others. These extra sounds mean you can play a wide variety of music genres, which helps keep you motivated too. You can layer sounds as well, pressing a single key to play a piano note with a string sound layered on top.
Onboard Educational Features Improve Your Piano Playing
The GP609 provides an alternative to the conventional book-learning method with its onboard educational features. Jamming alongside the onboard songs prepares you for joining a band or orchestra, while the Twin Piano mode allows a learner and teacher to sit side-by-side and play in the same key range. The built-in metronome helps develop accurate timing, while the onboard recorder lets you capture what you've just played and then listen back, instantly evaluating your progress.
Roland GP609 white Commercial Use
The grand piano is a refined and majestic instrument with a powerful and expressive tonal character. Its graceful appearance brings an air of classic elegance to any interior – whether at home or at a venue. And yet, although undeniably beautiful, owning an acoustic grand piano is not without challenges. Consider regular tuning and keyboard maintenance costs, as well as the considerable weight which makes it difficult to move around. The GP609 avoids these issues thanks to a variety of digital advantages that make it easy to enjoy a grand piano at a venue – or at home – without the cost or hassle.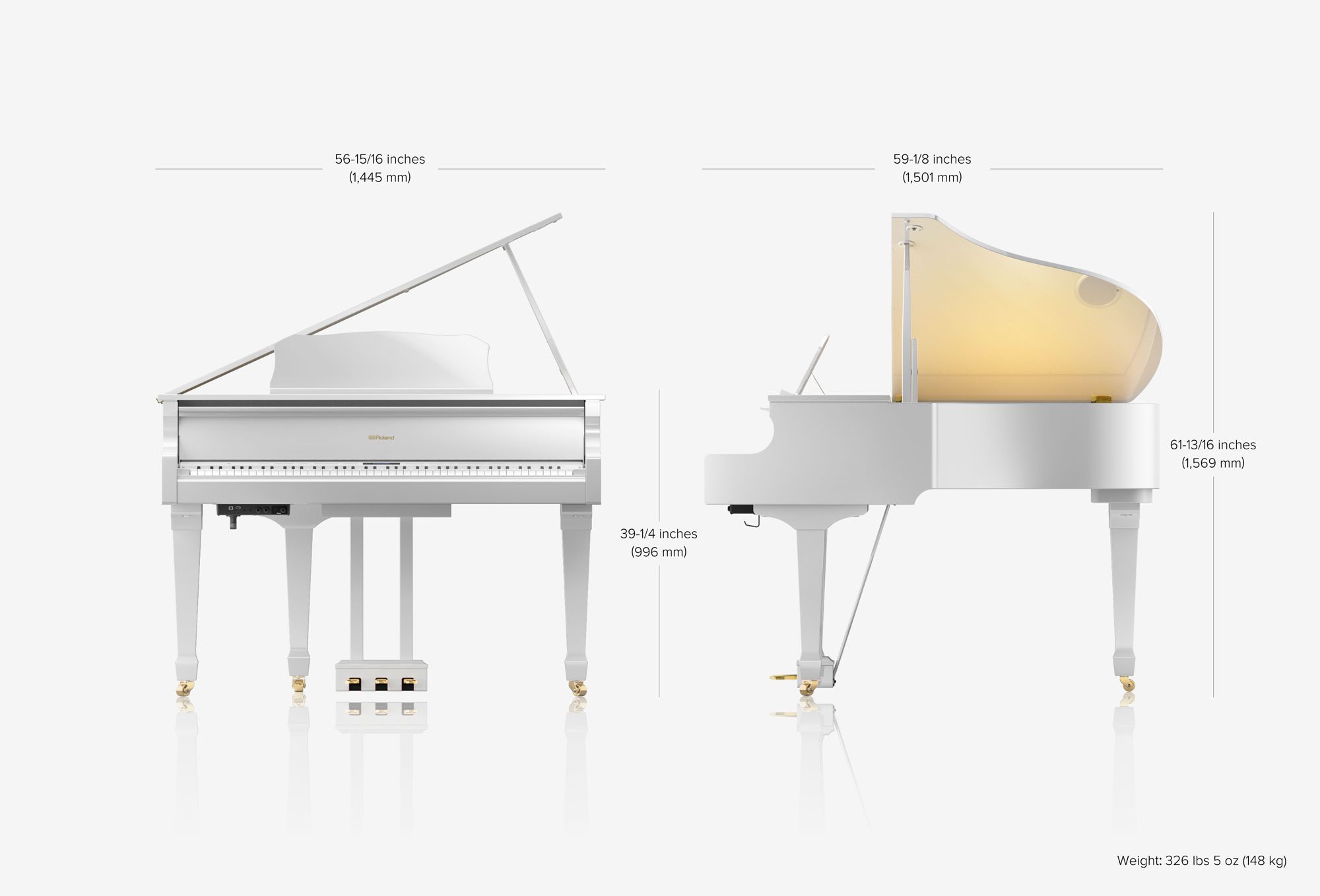 We ( Sound Town Electronics ) compromise price not quality.
Also see 
Roland
 for more relatable products at nice sum.