ETX-18SP
18″ powered subwoofer
18-inch DVX woofer for extended low-frequency response
1800 W Class-D power amplifier with integrated FIR-Drive DSP
135 dB peak SPL
Special DSP preset for true cardioid performance across the full operating bandwidth
Combo pole cup (insert and threaded) for use with the ETX Powered Loudspeaker full range models
Removable casters
Top-of-the-line Subwoofer for Concert-quality Sound
The Electro-Voice ETX-18SP packs concert-quality sound into a tidy, easy-to-use powered subwoofer. Its efficient Class D amplifier pumps 1,800 watts through a high-sensitivity transducers providing you with thumping bass and earth-shaking output. Everyone onstage will appreciate the significant reduction in stage noise, courtesy of EV's exclusive Cardioid Control Technology. Digital signal processing puts a range of performance optimization and protection tools at your fingertips. And the Electro-Voice ETX-18SP's rugged wood enclosure will easily tackle the rigors of touring.
Build your system around this flexible subwoofer
The ETX-18SP features two XLR/TRS combo inputs that accommodate the connection of just about any piece of gear. Flexible gain controls, adjustable delay, peak and temperature limiters, automatic output reduction, and a plethora of other useful features make calibrating your system a piece of cake. And the ETX-18SP is linkable to a speaker or another sub via a Mixed Output jack.
Tour-quality sound with trouble-free setup
It's easy to achieve a great-sounding performance with the Electro-Voice ETX-18SP. Its high-efficiency Class D power amplifier yields a maximum SPL of 135dB — more than enough to shake the venue. FIR-Drive uses DSP to optimize transducer linearity. QuickSmartDSP provides effective system optimization with presets for your application (Music and Live) and location (Normal and Cardioid). You can also tailor your sound to the venue with Room EQ. And EV's Cardioid Control Technology provides a significant reduction in stage noise when multiple subwoofers are deployed.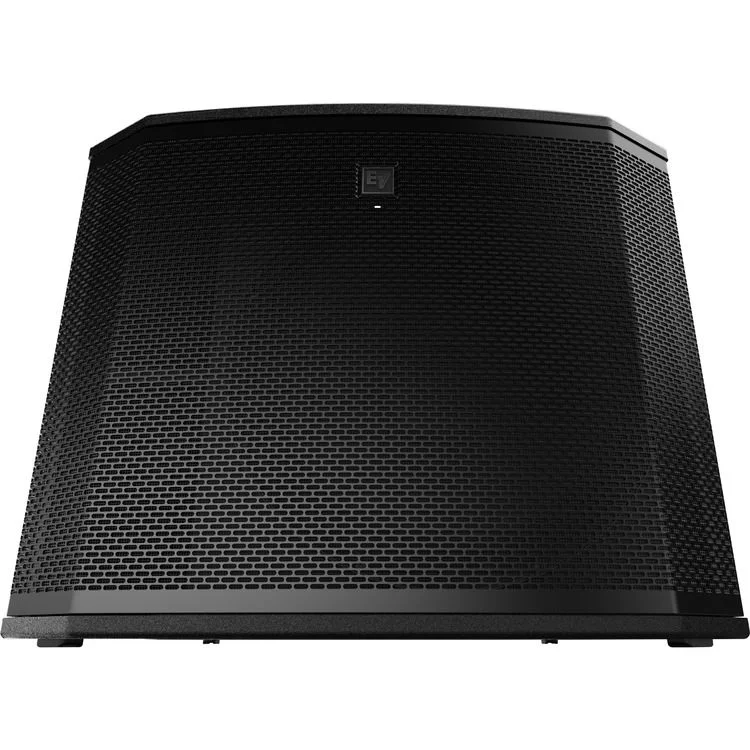 The ETX Series — Electro-Voice's top-of-the-line speakers
Electro-Voice's ETX Series was engineered from the ground for uncompromising performance. At Sweetwater, we've found that these speakers deliver the perfect combination of concert-quality sound and critical versatility. Professional musicians, DJs, mobile entertainers, and rental companies looking to put together a high-end PA system will find much to love about the ETX Series. Top-quality components, EV's exclusive Cardioid Control Technology, efficient Class D amplifiers, and onboard performance optimization and protection features combine to deliver precise coverage and world-class sound. On top of that, everything is packed into low-profile tour-grade wood enclosures.